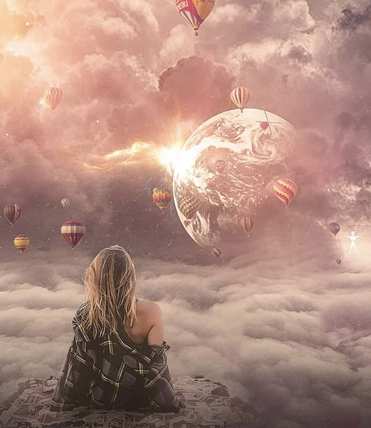 By Andrea Plesha
Solitude, like any long-term relationship, has its seasons. With the pandemic lockdown, solitude took on a new meaning for many of us as the busyness of daily lives disappeared completely. It made us confront our lives and ourselves in new ways. For many of us, it raised questions about how we want to live; where we want to live; who we want to be. Culturally, solitude has two dimensions: it is increasingly celebrated as a brave journey of freedom and empowerment, but it is also seen as a road of loneliness, sadness, despair. Without the relief of daily busyness, solitude challenges us in new ways, and it is giving us a chance to reclaim ourselves.
Without distractions, our traumas and suppressed emotions begin to rise to the surface. In our busy lives, we do not pay attention to our soul's needs. When we are solitary, this need is exposed entirely in the form of a vague emptiness, ache, grief. Solitude confronts us with our beliefs about ourselves and the world. A conviction that we need other people to feel whole, to feel joy, to feel love can make us feel sorry for ourselves, abandoned, fragile. 
It is truly only in solitude that we can find the freedom necessary to allow the rhythms of our hearts to take over without any guilt or worry.
When confronted with all these emotions in solitude, we tend to blame the solitude. We become convinced that what we need is to live with someone. Out of habit, we look to something external to soothe the aches of our hearts. The solitude is only revealing what we otherwise cannot see. In solitude, we are provided with both a chance to know our emotions and the freedom to do so in ways that we cannot around other people. 
Solitude has its seasons which we can only learn if we work through each one of them. When we are unhealed because we suppress emotions and traumas in our bodies, solitude will feel painful. The pain is always there, but in interacting with other people, we are able to either soothe it or simply distract attention from it. In solitude, we have no choice but to pay attention and allow everything that we feel. It is truly only in solitude that we can find the freedom necessary to allow the rhythms of our hearts to take over without any guilt or worry. Only after we heal, can we truly begin to feel what it means to be solitary. It takes work to get to the season of self-love, joy, and security.
The reward in the seasons of solitude comes to show us that we are whole on our own. That what we thought is dependent on people, places, circumstances, exists within ourselves. One day, joy simply appears. 
If you find yourself solitary, you are blessed with a time in your life to love and own yourself. If you weather all the seasons of solitude you will find out how whole, brave, and strong you are. It does not mean that you need to forgo loving relationships. You will know yourself deeply in ways you would not otherwise. And once you find the season of joy and love with yourself, any new relationships in your life will have to be at least as good as what you have now.